Should I hire a business growth consultant to automate my business?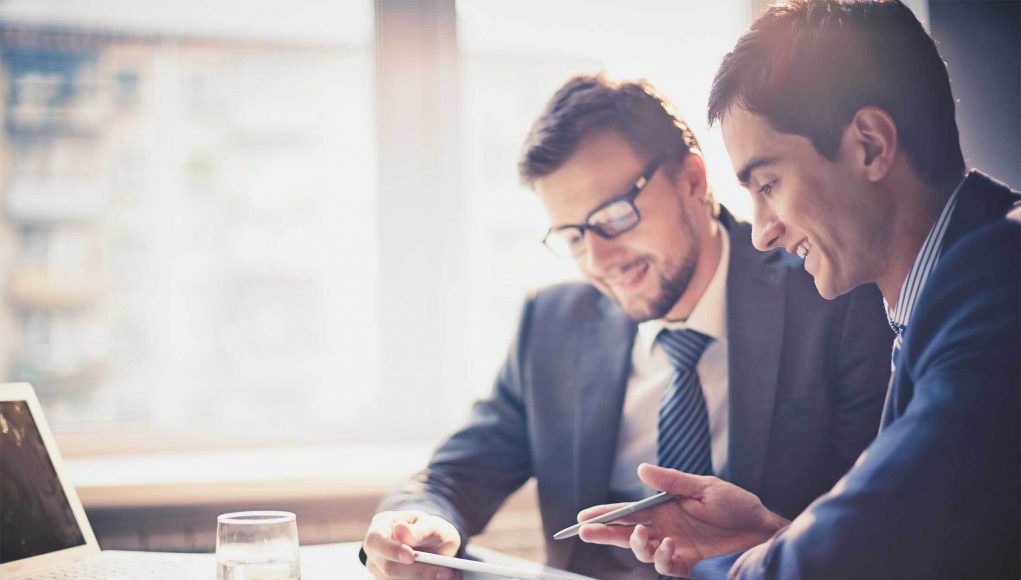 If you think your business isn't growing as fast as it should be, you're probably correct. Most new and experienced business fail, many stagnate and grow stale over time. This is why many companies hire a consulting expert to help with business process automation services. Small business automation has exploded over the last few years. It's hard to keep up with all of the new tools and systems. As a business owner time is money, so sitting around and randomly testing new tools doesn't drive the bottom line. Implementing small business automation software is step 1 for any small business. Small business automation is changing the landscape of how small business owners manage their businesses day to day. Business automation services are available online at every turn, but choosing the right company to work with is downright frustrating.
The High Level Guru is a small business automation consultant offering business process automation services and business growth consulting services for small business owners nationwide. Being a previous business owner, and having owned 4 businesses that reached a million or more in sales, makes The High Level Guru a perfect fit to help with your private consulting needs. Below I'll outline our basic strategy we take with any small business to make sure you have the right online footprint. Having just a website or a Facebook page to represent your business online is simply NOT enough. Having a blueprint for online success by identifying the key available platforms, and then delivering optimized content to those platforms is how you build a successful online foundation for any business.
7 Steps to setting up an amazing online footprint
1. Develop blueprint for your online footprint
By clearly identifying the key players and resources online we can take the first step to delivering optimized content to the masses.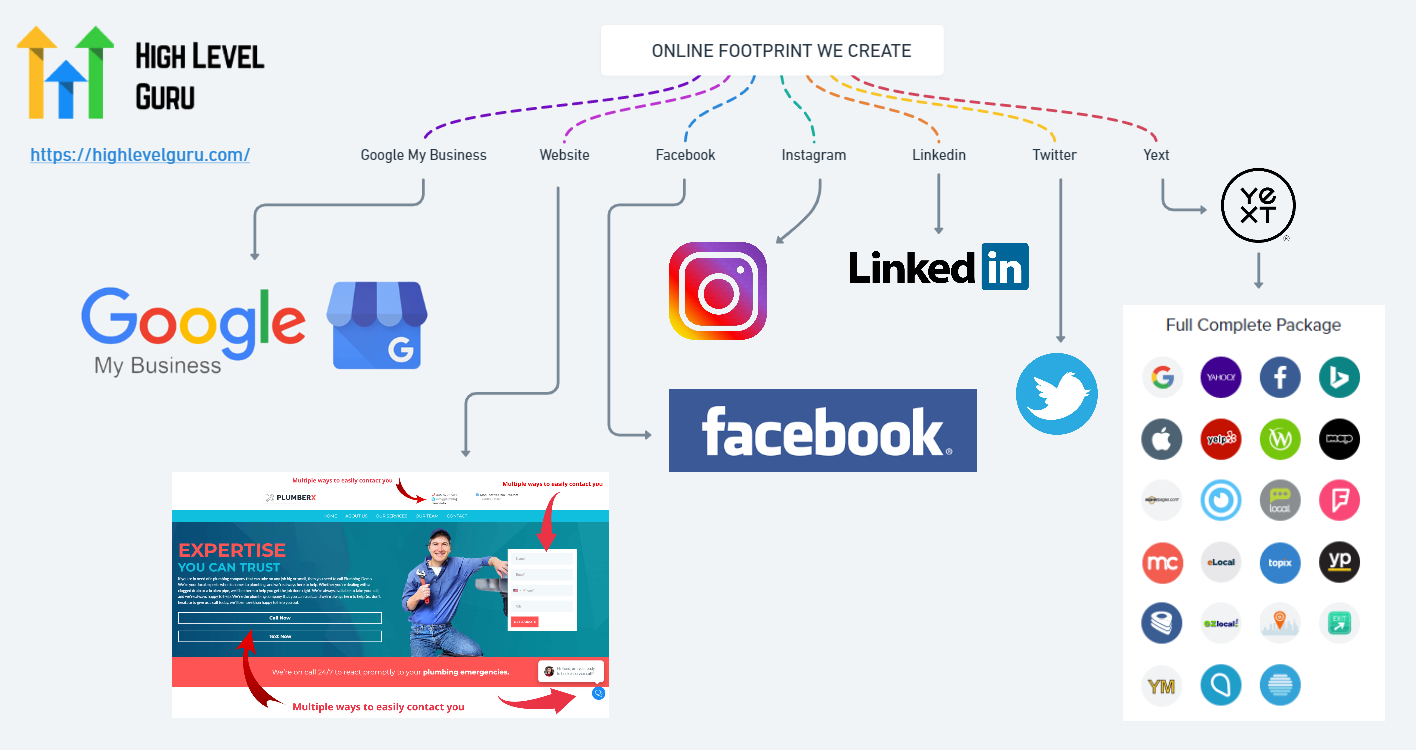 2. Google My Business
Having a Google My Business listing is critical for any business. If you don't have this listing, you basically don't exist in the modern era. Much of what drives Google's placement for search results, especially with local businesses, is based on review count, and the quality of the reviews. If you don't have this listing setup The High Level Guru will help you setup and verify your Google My Business Listing. We will also publish content to your Google My Business Listing and work with you in other ways to enhance this listing by posting unique photos, and other content for your business
3. Facebook Page
With 2.9 billion reported users it seems somewhat obvious that every business should have a Facebook page. Much like Google Facebook also allows you to have reviews posted from past customers. These reviews are almost as valuable as Google reviews, but not quite. Clearly listing your business address and phone number and hours of operation are also important when setting up Facebook. From here we develop a series of on-going posts using keywords we know local customers are searching for. Over time this is what will help rank you better on sites like Google. Creating a rich posting history and attracting followers also helps increate the internal score for your Facebook page. This is critical if you decide you run paid ads on Facebook. Many businesses get locked out of Facebook ads due to not understanding the slippery landscape.
4. Instagram Page
With a reported market share of 1.4 billion users, Instagram is a great platform for any business owner. Just like Facebook we make sure that all of the business data is congruent with previous listings. This is what Google likes to see online is consistency. Audience size and engagement will grow over time, especially if you put the time in liking other people's posts, making comments, and following new people.
5. LinkedIn Page
By last estimates LinkedIn has about 800 million or more reported users on the platform. This platform is different than Facebook or Instagram or even Twitter. LinkedIn is a platform designed and developed for business to business interaction. Most business professionals have an account on LinkedIn and have some sort of affiliation with the platform so it's best to have a company profile listed. This is also another platform to post content to daily. Over time this continues to index in Google and other search engines.
6. Twitter Page
Most people by now have heard the word Twitter or know what a tweet is. With an impressive 500 million users or more on the platform Twitter is certainly not to be ignored. Messages on this platform are limited to 256 characters which can cause problems for social media managers. Content for this platform has to be reduced in size, and creativity is limited to 256 characters. You can always post a link to another website in your tweet. Most posts on this platform are short in size and the average post it's reported is only 28 characters long.
7. Yext Listing Setup
Yext provides interesting options for a small business owner. The High Level Guru uses this service to setup your business on 75 different online directories. These listings serve as valuable ammunition to get your business noticed by Google and further legitimized. What makes this service worth the value is the ability to manage your business listing on all 75 platforms at the same time. This is why it's critical to make sure you business name, address, phone number, and website listing are all identical. Google loves to see identical data listed for your business.
Looking to hire a business growth consultant?
Contact The High Level Guru at: https://highlevelguru.com/
Learn more about Go High Level business process automation software: https://whatisgohighlevel.com/
---
Business growth consulting - business consultant lexington ky - business consultant dallas - business automation workflow - business consultant sacramento - business consultant las vegas nv - small business automation consultant - consulting expert - private consultant - business growth consultant - small business workflow - automated business products - small business workflow automation - business process automation services - small business automation - business automation tools - small business automation software - automated business - how to automate your business - marketing automation software for small business - small business marketing automation - high level guru